Home | Sunchild Mission | Outreach | News Updates | Devotions
---
Sunchild News - June 2015
Page 1
www.arcticoutreach.org --- e-mail rinker@arcticoutreach.org --- phone 403-989-3715
---
Dear Friends,
In our last News we mentioned it was the 50 year mark of our ministry to the Native Americans. The intensity and activity of the last year has been a testimony to the quality of this experience. Historically, any work God has used has been characterized by struggle, battles, often tragedy, but one thing is it never comes easy and comfortable. The fact we are in the middle of a great battle has its constant reminders. Last night two young people were found hanging in the woods a few hundred yards away. This makes 6 deaths in the last week.(Update) As I'm preparing this news we had another death, and that makes 7 in the last week. (Update) Before I got this posted, two more died yesterday and that makes 9 deaths in the last two weeks. I gave up trying to count how many suicides happened nearby since we built this house. But, we are here, and we are a hub of this neighborhood with people in and out all day and night..eating here, sleeping here, hanging out... and with numerous events in the church all week...many see as a 'Light in the Darkness'.
Some years ago we made a major push to customize and rebuild a Cessna 182 aircraft to fly into Siberia and use in the Arctic. The major additions involved the factory new engine, prop, long range and extra gas tanks, radios, and etc. It did everything we asked of it, safely, all these years. Now the time has come to overhaul and customize a replacement 182 for use in the Arctic. (We are building a small bush plane for access to remote areas, but it is still some time before it will be finished, and it won't take the place of the 182 which is for hauling loads and long distance trips.) We have a couple of aircraft engineers in Red Deer that have been our friends for many years and have made it possible for us to keep our aviation ministry operating. They have maintenance and overhaul shops and have our recently acquired, low time 182 going through a major overhaul right now.
Due to the rigors of Arctic operations we have to build up our Cessna 182 aircraft to a high standard. After all these years we know very well how to do it and what is needed. So far we have the engine ready to reassembled and it will be "0" timed with all the components rebuilt, tested, and signed off. The prop came out of the shop freshly rebuilt and is ready to go back on. So now is the time to do several other upgrades including heavy duty gear and large tires, high power landing lights, and a STOL kit to enable it to get into unimproved landing strips, with other upgrades as well. We have put everything we have into this project but we need a lot more funds to complete it. It has been one of the largest steps of faith we have ever taken, but since we are in a unique position of opportunity in the Outreach to the Northern regions of North America, to me it is obvious that it would be failing if we sit back and didn't move forward with this project. Especially since we now have our own hanger and runway here at the mission. We are making this need known so those who have partnered with us will be aware of it. I hope to arrange for deputation services now to support this also. If your church, or a church you know of would have us come for a missions service, please let us know soon. I'll put all the pictures concerning the airplane project on page 2. The rest of the newsletter will be enlarging on the pictures posted.
When the workers were here last summer the house got some TLC. It really changed it's appearance. Colby & Logan built the porch in October. We are always asked about the 000 house number. Well, the history is..in the 1990's none of the houses here had any numbers or ID of any kind. When the ambulance or police were called they had no idea where to go. So the administration devised a plan to number all the homes and have a map. Lo & behold, one day someone came with the sign to put on our house. We got "000"! The antenna on the roof is for our internet connection. Less than 2 miles away is a tower that provides service, so although we are in a remote location, nearly 40 miles from town, we have a good internet connection. We do 'not' have TV at our house, well, because we don't have the time, money, or mentality for it.
In the last 10 years we have been developing a working relationship with the Korean Churches here in Alberta. Large cities such as Calgary, Red Deer, and Edmonton have a large Korean Community. The nation of Korea has a thriving Christian community and a large percentage of Koreans coming into Alberta from Korea are wonderful Christian people with a deep devotion for Evangelistic Outreach. So inevitably they find us and the Reserves here and really want to help. This picture is from a recent team that held a two day youth event in our mission. They had a sleep over and here one of the local girls is getting her hair braided.
This is two of the Korean pastors with Joshua the youth leader. What a blessing and surprise to have these people working with us!
This is David and his family singing for one of our services. A Christian family like this, with sweet, humble children, are such a valuable influence in our ministry! Having come recently from Korea, they reflect the spirit of a church that is still in the early revival atmosphere.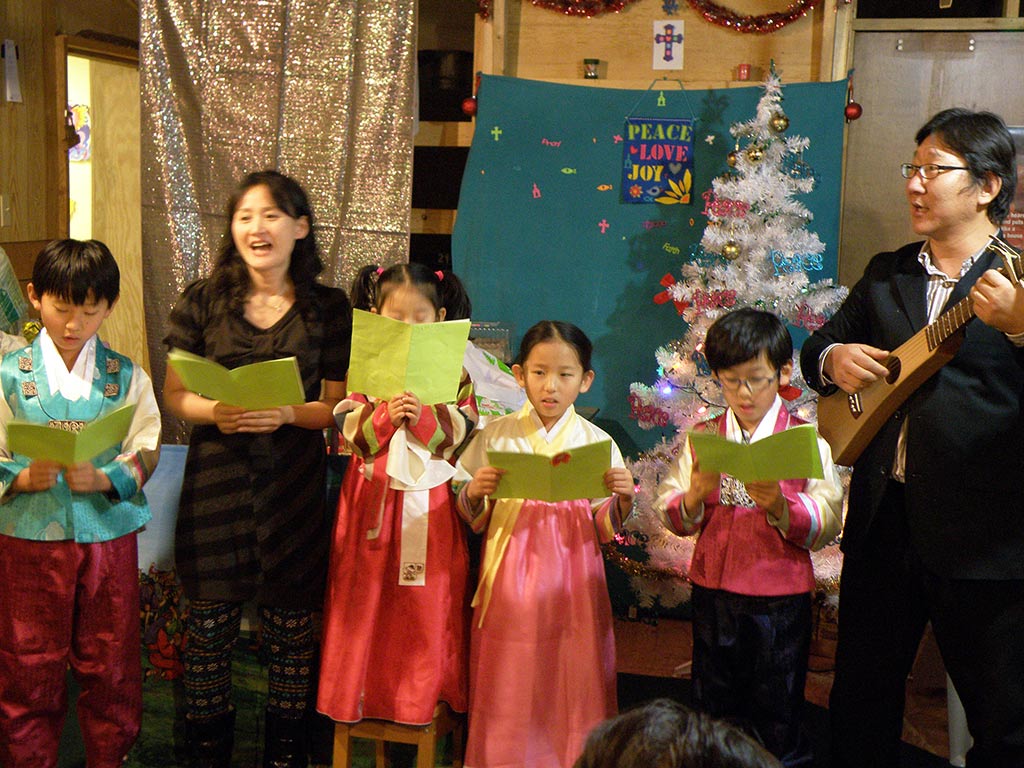 OK, I have to tell this story! Mr. Goose here (picture taken in May 2015) does not have a name even though he is a close member of our family, and had we known his loyalty earlier on, he certainly would have a proper name. Some time in the mid 1990's, our adventerous son Joshua was down at the Baptist River riding around on his horse and came home with a newly hatched little bably goose. Somehow he chased it around in the river and caught it. We put it in with about a dozen turkey chicks we recently acquired and was raising for the freezer. So the goose grew up thinking he was a turkey..naturally. He didn't have a mom to teach him to fly, so when the snow came we just thought he would have no idea he was supposed to head south for a winter holiday. One day I saw him make a very clumsy attempt to fly which resulted in a crash landing, but he did sort of succeed in getting in the air. I was thinking, well, he won't get far if he tries to migrate. However, within a few days he disappeared with no sign that something had eaten him. Although we didn't 'know', we realized it certainly was a possibility that he left on his own. I don't remember for sure, but I think it was two years later when lo and behold, Mr. Goose came home and brought his lovely bride with him! Actually my memory fails to remember back that far, as to whether he came the next year alone, then the year after that with his mate. What he did, was every morning he would stand just outside the barnyard and just stare at the goats and chickens that he grew up with. He really wanted to come in, but had acquired some of the aloofness of his wild companions he had joined up with in Mexico. So he just kind of hung out all morning. Afternoon he went down to the nearby 'Coyote Creek' where they had a nest. Every day it was the same thing. Then, after several years he no longer came. We assumed he got shot on his migrations or came to some demise or other, and that was his life. In 2001 we moved to the Yukon. We moved back here in the Mid 2000's and got this house back about 5 years ago now. Well, just a few weeks ago, to my utter astonishment, I walked outside one morning...there in the exact same spot he occupied for years...holding his head in the same arch and with the same look on his face...there he was! I really couldn't believe it. His place had been cleared into an airstrip, there was nothing to attract a goose, and no other goose had ever been seen anywhere near these grounds (except flying over). He stayed there for his traditional hours searching for his long lost buddies that were all gone. He was by himself now, but undoubtly Country Roads had brought him home! We did some searching and learned that geese in the wild can easily live into their 30's. What stories he must have to leave untold? Maybe now he will finally get his name!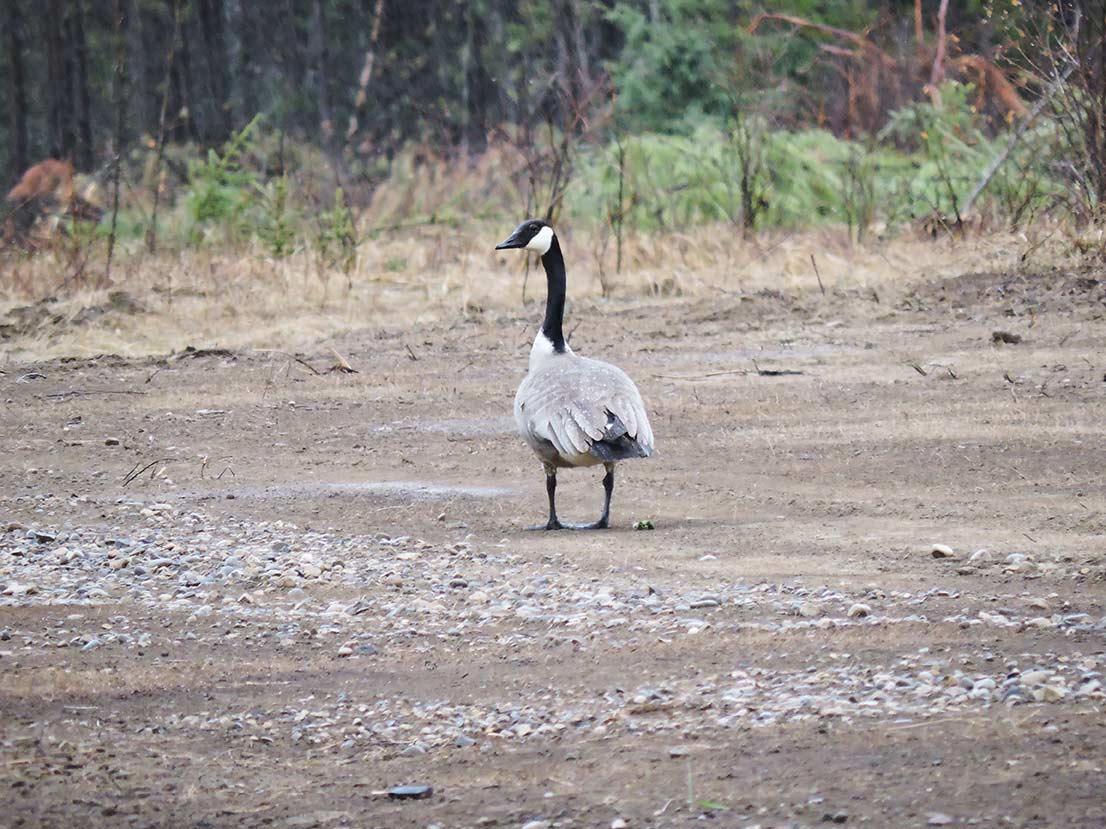 This is our goose taken about 20 years ago. Notice the fire killed trees that were burned in 1987.
Last fall we got our airstrip in and brought our Cessna 182 home. This is a friend of ours, Keith, that dropped in one day when our strip was snowed in. Keith's plane is on ski's. He built this airplane himself.
This is the family of one of our local girls here in the neighborhood. They came from Saskatchewan to be with her and stayed for two days with us here at the mission.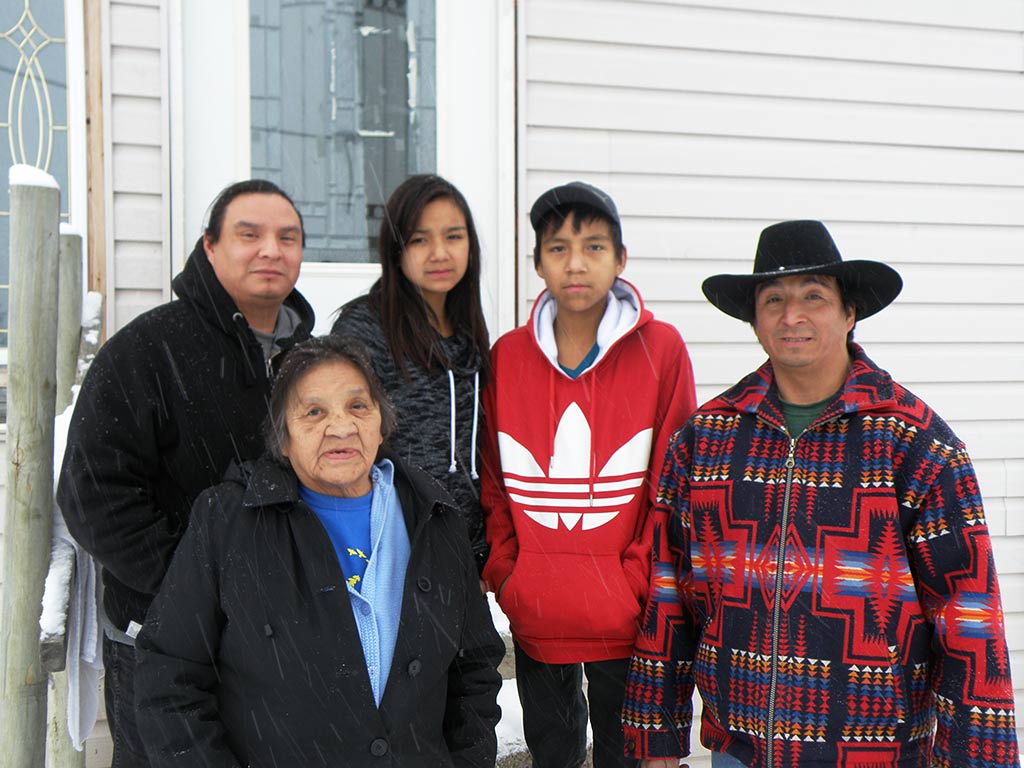 This is one of our violin students, Keshay. She is dressed for a school function. Her sister is in the background.