Home | Sunchild Mission | Outreach | News Updates | Devotions
---
Sunchild News - June 2014 Page 1
www.arcticoutreach.org --- e-mail rinker@arcticoutreach.org --- phone 403-989-3715
---
Dear Friends,
In March I made my spring Outreach trip into Old Crow. I drove to Ft. McPherson in the Northwest Territories. I didn't expect our 16 year old pickup to make it, but it did without missing a beat! From there I put about 600 miles on my Skidoo. Two fellows had tried to go through a week or so ahead of me and got into trouble. The Rangers from Old Crow went after them and took a different trail, couldn't get through and had to turn back in the middle of the night. The two men were finally rescued by helicopter. I was able to make it all the way into Old Crow in about 6 days by myself, but not without a lot of difficulty. The other fellows had gone down the Bell River instead of the overland trail, and since I had no way of knowing how far they made it, I decided to use the trail down the Bell as far as it went. I had checked out the overland trail and found the snow so deep that I didn't want to fight my way through there by myself. The Bell river is often considered to be impassible at that time of year with no trail because of the overflow under the snow. When you break through you get stuck and the machine will freeze in quickly if you can't get out. I have froze my feet in that situation a few years ago. I never got stuck until I got to the Porcupine and thought I was out of the worst part. Then I got stuck about 5 times and had to camp on the river. About 50 miles from Old Crow I came to a camp of a man named Joseph and his grandson. We ended up traveling into Old Crow together from there. The home I always stay at, Dick, had a fire and Dick was taken to Whitehorse. So Joseph invited me to stay at his house, and when he left with his family to go back up river and spend breakup at his wood camp, he gave me the key to his house and said I could stay as long as I wanted. So through God's special providence I had a beautiful house all to myself for as long as I needed it in Old Crow. We had been seeing the need and opportunity to use the mission here at Sunchild for a special Rehab type program but it was always more challenging than we were willing to implement. However, on this trip several needs were so desperate that two ladies that were long time friends of our family came from Whitehorse to stay here at the mission. Only one of those actually came all the way, but later a relative of hers ended up coming and we hosted them here. We had no funds to do this outreach and had to do it all with our own support, so they didn't want to be a burden to us or they would have stayed longer. At the same time, again without us having planned it, we had people come to start the Celebrate Recovery program, which is a Bible based ministry having amazing success around the world.
We don't often share personal experiences but we had an answer to prayer today that was a very special encouragement from Heaven, so I will share it. With the demise of EBM and our loss of a U.S. office to receipt U.S. funds, we have had little support for the Northern Outreach. Just before I left for my Outreach trip I got an email from a fellow that wanted to send a thousand dollars and would have made the trip possible. It ended up that he never sent the funds, and I decided I should go anyway and trust it would all work out somehow. I was amazed how many effective doors were opened on this trip. One person was in such trials that they had struggled with sucicide and we were able to arrange for them to come and stay here at the mission and work on their needs. I had never seen such openness with the people up there. So, today while I was writing this letter (which takes all day with everything going on)..I was just typing the sentence which says, "...We had no funds to do this Outreach..." when the phone rang and Karen said it was for me. So I stopped in the middle of the sentence and got the phone. It was from an old friend of mine from back in the 1960's. He had borrowed some money from someone way back then and couldn't pay it back. Before that person passed away they told him if he ever was able to pay it back to send the money to us! He had this on his heart for going on 50 years and said he was sending us the check for a thousand dollars. I couldn't possibly miss the fact that God was speaking to us in a very personal way through this, as I had been having some interesting talks with the Lord concerning these support issues.
Almost every time I write a newsletter I appeal for someone to come and help us with the young people that are constantly at our home. There is something very special about the mission environment that attracts these kids to be here all the time. The contrast with the darkness and the hope they feel...often, we know that God works very special things in their lives through the ministry here and when they get older they always tell us about that. We can't turn these kids away because the need is so great and that is the special open door for ministry here. It has become difficult for us to get anything else done because we have so many youth in our home 24 hours a day. Our neighborhood keeps growing & growing and the need for someone to come, even for a short time, and help us with this load increases daily. So, if you know anyone available...all I can say is "Help".
We have two vehicles in need of repair, which is so expensive here that it would be far cheaper for us to buy a ticket for a volunteer to come and do the work. The work is all replacing parts, and any grease monkey could handle it. So again, if you know someone that would be available we will provide the ticket.
We have two large teams coming from Pennsylvania, 22 people just from there, plus others from here in Canada, beginning July 12th, and we are working hard now to prepare for them.
We may try to do a daily update when that time comes, so you can follow along with the activities.
Needless to say we need your prayers for God's blessing, protection, and special help.
This is Noreen, a lady from up North that came and stayed to help us for awhile. Here she is with two pair of mocassins she made for Karen.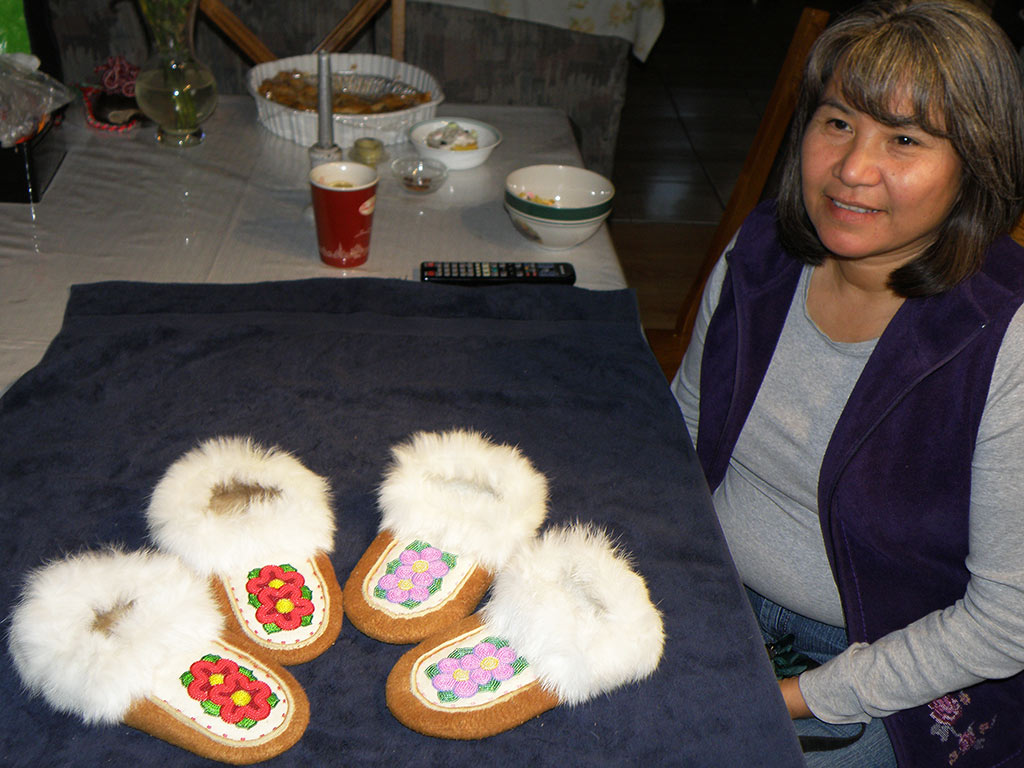 This is Christine from Old Crow. She spent several months here at the mission this spring. Below she is working on our kitchen table doing beadwork with Noreen. The hide is from a moose hide that we tanned the old brain tanning way.
Below is a series of pictures from my March outreach into Old Crow. This is at Stoney Creek Cabin in the Northwest Territories. Here I'm getting packed up to head over the mountains.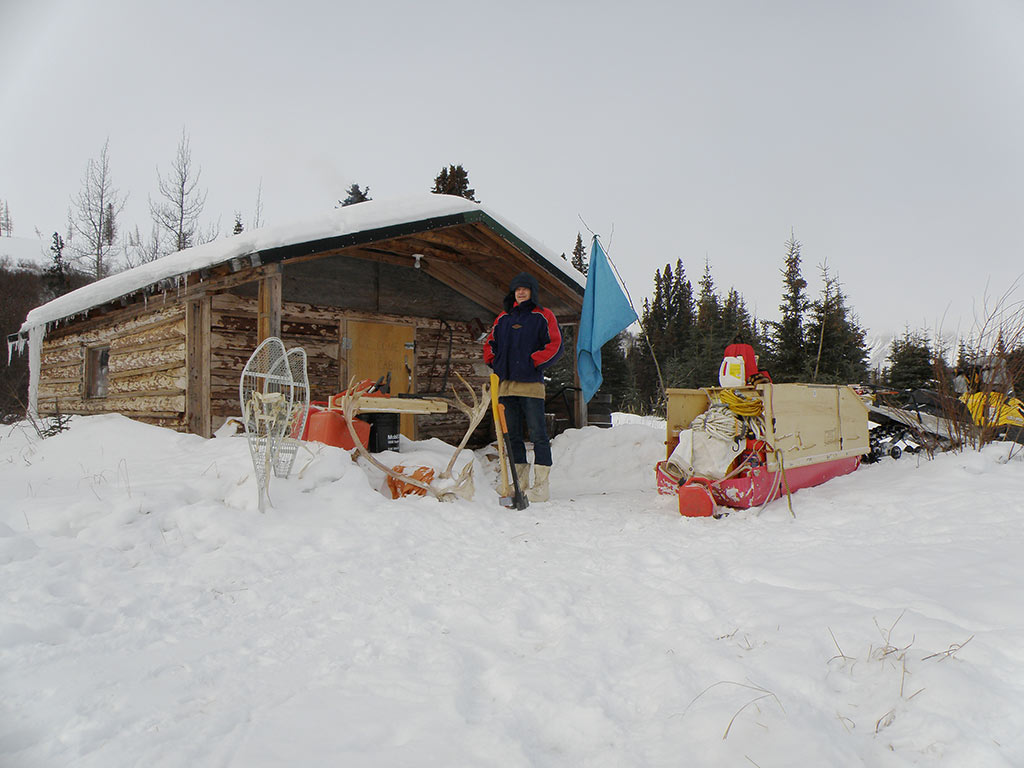 Since pictures are worth a thousand words, I'll post some pictures of the trip along the way. Below is the Curtain Mt. cabin. We used to have to pitch a tent and camp coming through here, but now we have several cabins to stay in along the way.
The flag identifies who is camping. Aircraft passing over take note and in case a problem develops they will remember I was camped here. Sometimes a passer by may not stop or if he does and I'm not home they will know who is here by the flag.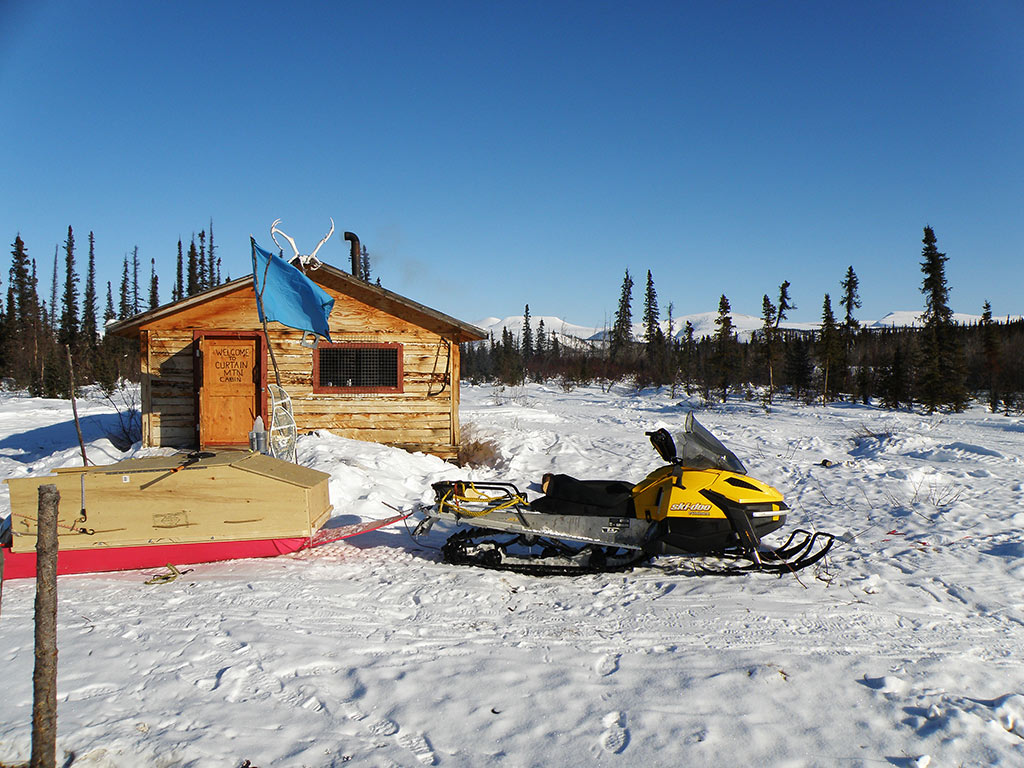 Coming down Lachute not far from the continental divide between the Yukon and Northwest Territories.
They call this the "Glacier". Ground water comes out from deep inside the mountains, freezes and keeps building up constantly. The whole river is like this off and on. In places there will be 6 to 8 inches of water that you have to drive through because you can't get around it. Then it freezes and the water comes out somewhere else. Normally the Skidoo will be severly iced up by the time we get here and you have to spend an hour or so chipping the ice out of the track. This is the first year I got through without much ice on the machine. I don't think I ever saw this glacier without water on it like this.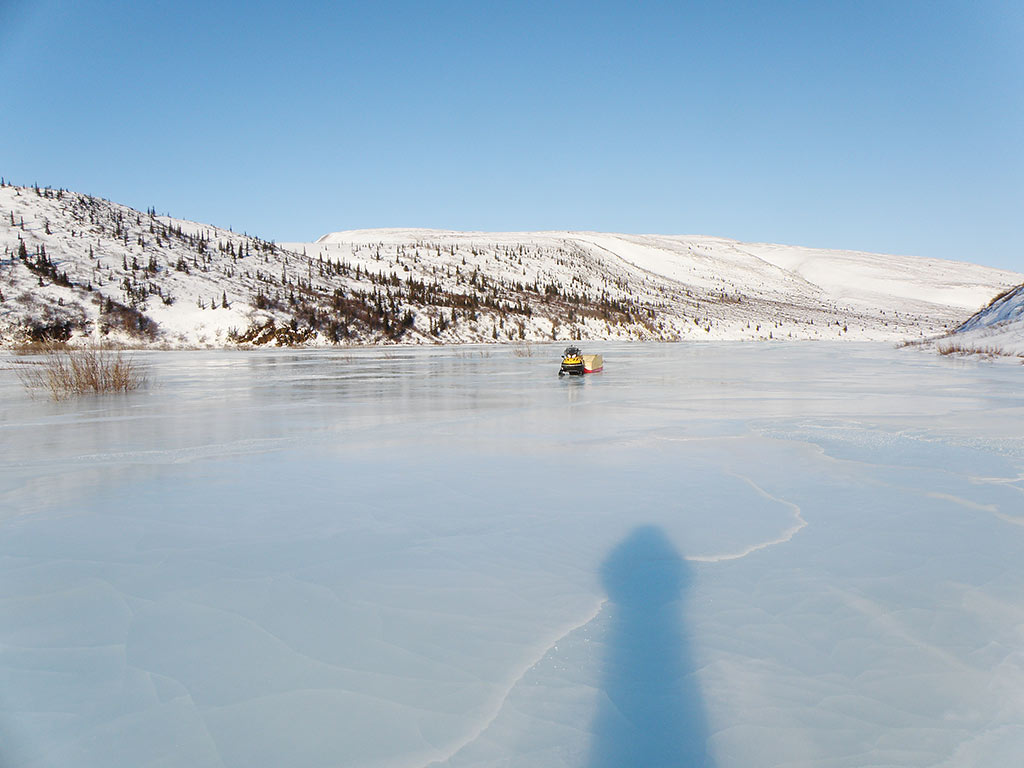 This is inside the Curtain Mt. Cabin. You have to eat real food when you're out like this. Here is my skillet of oatmeal for breakfast. We melt river ice in the big pot for water, and drink lots of hot tea.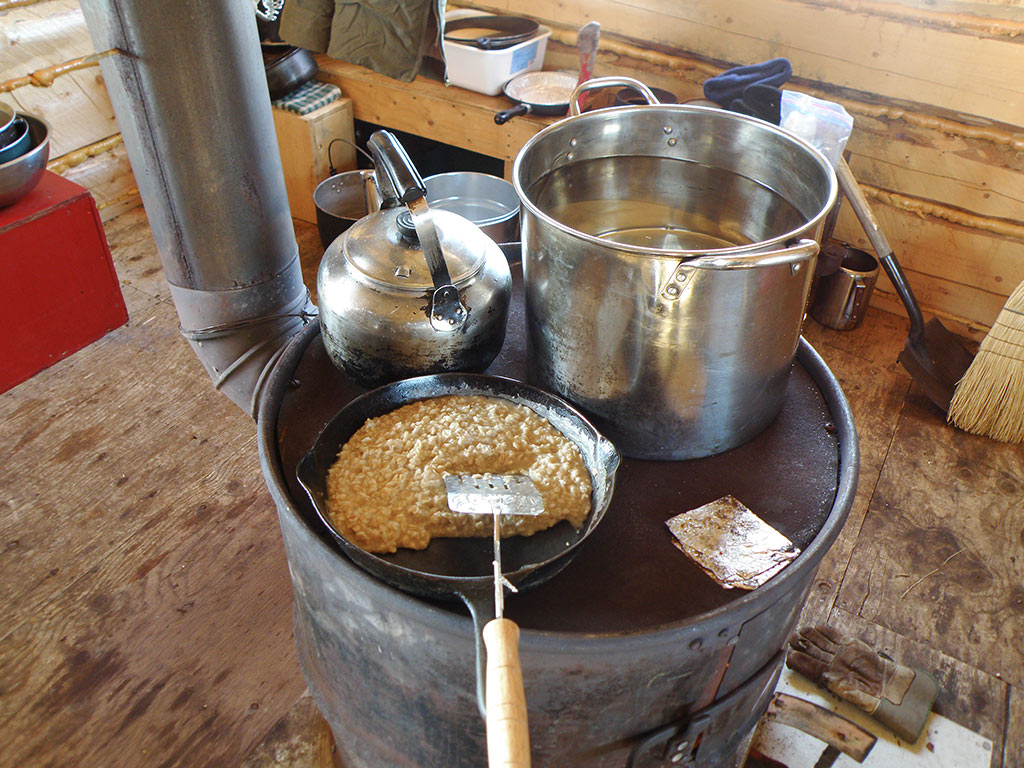 This is another picture inside the cabin.
This is where I had to camp on the Porcupine river. If we had a choice we would camp in the trees, but I got stuck about five times and had to camp here in the dark. I couldn't get up the bank and had to pitch my tent here on the ice. There is water under the snow out in the middle everywhere along here. I unhooked the sled and was able to make a trail through all the bad stuff and in the morning it had froze up enough to pull the sled through. The tent is very warm, even hot, with the wood stove and I was able to dry everything out good.
This is on my way back up the river after visiting in Old Crow. A large 'Sovereignty Patrol' of Rangers came though and hit the trail I broke at the Bell and Porcupine. This is just the lead machines of the large group.
Here are several pictures of Josephs camp on the Porcupine River, about 40 some miles up from Old Crow.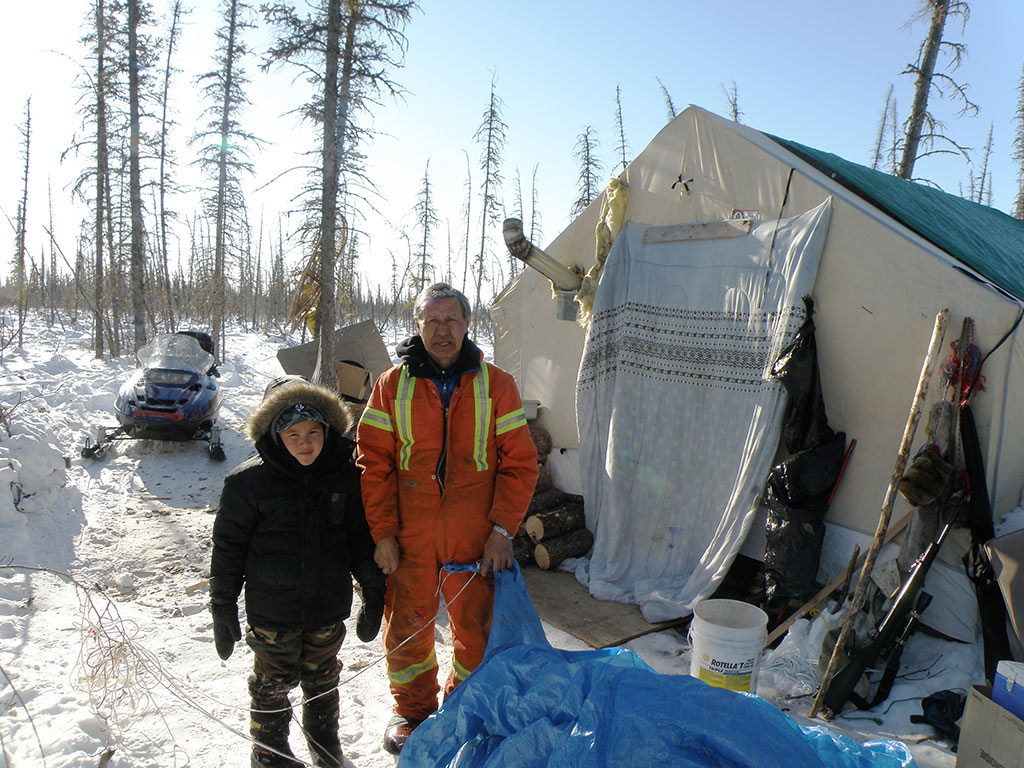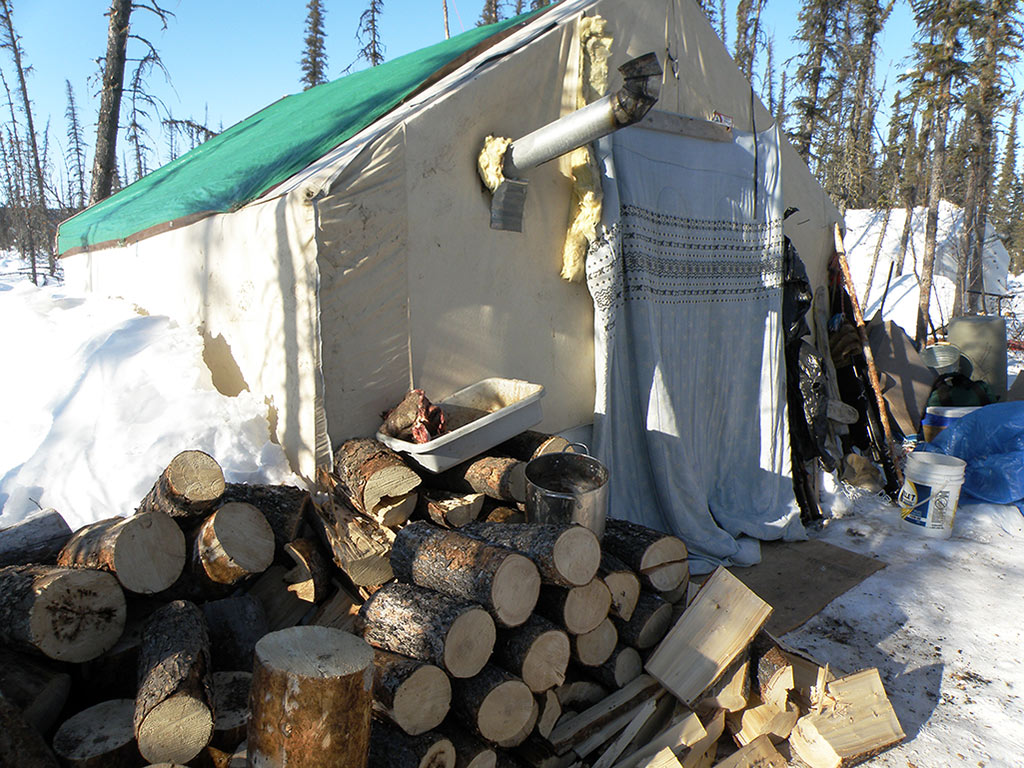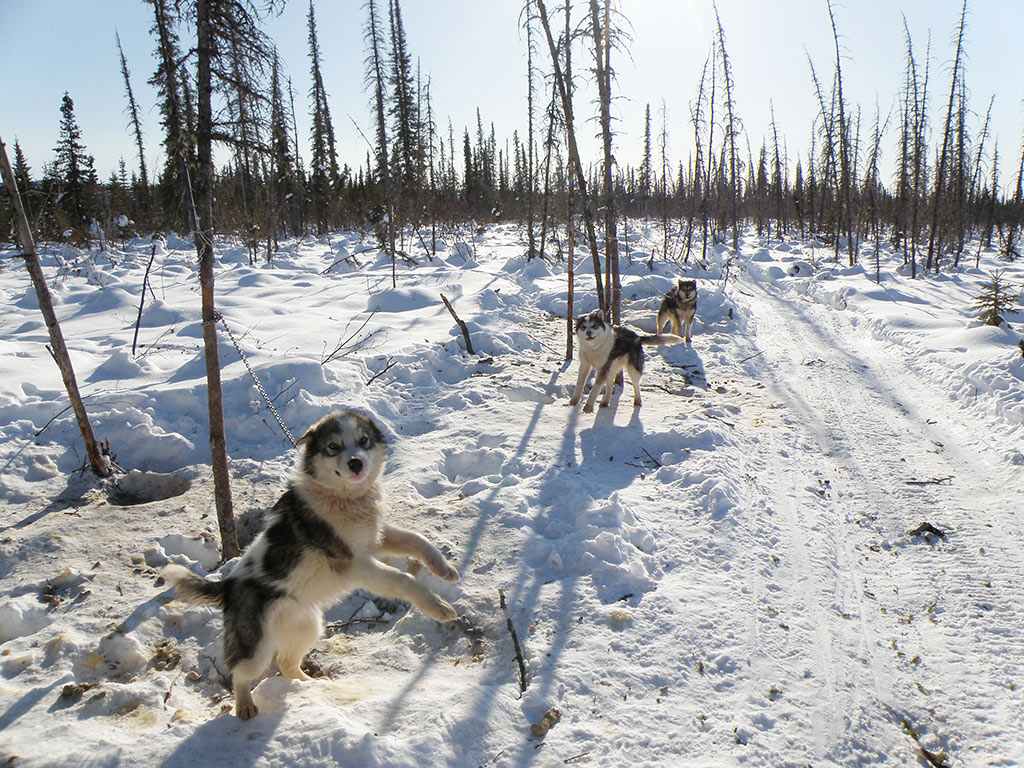 This is only the first page. Click on the link below for page 2. I've divided it up so it will load for slower download speeds.