Home | Sunchild Mission | Outreach | News Updates | Devotions | Pictures of the week
---
Sunchild News - December 2012
www.arcticoutreach.org --- e-mail rinker@arcticoutreach.org --- phone 403-989-3715
---
Dear Friends,
(Karen has a separate letter and pictures at the bottom of this page.)
Greetings from Alberta, Canada. This letter is our last missions report for the year 2012! That number still looks strange for someone having lived most of their life in the 1900's.
The significant news, for me, has to be the involvement of so many college students and young adults, especially from Three Hills and Red Deer. Karen & I don't teach classes anymore in Sunday School or youth groups because we always have a lot of help from these young adults. Last Sunday we had about 12 workers on Sunday, and this is not unusual as we often have more than that. I believe one Sunday we counted 18 workers. This is especially significant when you realize Three Hills is three hours away and Red Deer is two hours away which makes the trip six to four hours of driving for these teams and expensive as well. You may wonder why so many want to do this? The answer is because what we have to offer here has captured their hearts and challenged their lives and they can see their influence working in these people's lives. They find it an opportunity they have nowhere else.
We are working hard to develop our skating rink this winter, now that we have all the property back. Our weather has been plenty cold, but we hardly go a day without snow, which makes a lot of work on a 165 by 60 foot area. This winter has been "much" colder for this time of year than we have seen for a very long time. So we plan on getting a snow blower. It's hard to describe how important the skating rink is to the community here. We have a good group of youth every day because they have nowhere else to go and nothing to do. They have been running our snowmobile ragged going in circles around the property, and they find all kinds of innovative ways to drag someone behind the sled or whatever just to occupy themselves.
Our music program has been growing with the choir having public events in Rocky, the piano program going forward with more students, and our violin students improving and getting into their music more than ever. We are still asking for a full time music teacher. Anyone with a couple years of piano or violin can come and get on the job training if necessary. We started these programs with the idea we would get help to take them over. It takes a lot of my time every day that I need for other things.
Well, the Red Deer No Hit Church Hockey Association has invited all interested people to a special information meeting on December 12th concerning their proposed mission project to raise $200,000 toward building a new multipurpose church/youth center/workers apt. for the Sunchild Mission. For further information please contact Marty Skinner/phone 403-341-0566 email: skinnermr@shaw.ca. Up Date: This meeting was held as scheduled and a follow up is planned for January.
Karen has opened our A.C.E. School this semester with one special student. As always we have much interest in our school, but until we have personnel to work in the school we won't be taking on many students. Karen will write more information about this, and other news, on our web version of this newsletter. As usual we will be including pictures with it also.
It is our prayer you will have a blessed Christmas season and New Year.
In His Service, Rodger & Karen Rinker
We got to put in a garden last summer and we dug our carrots just before freeze up. The neighbor kids had a great time eating all the carrots they wanted.
Below is me flooding the skating rink a couple weeks ago.
We have a robber that comes and goes. One day he sat on my arm for a while.
This is one of the teams that came on Sunday last fall. We managed to get them together for a picture.
On the same Sunday as the above picture, we got a picture of the class being held in the cook tent.
This is the skating rink a little further along. We finally got it finished before the weather got too cold. It is colder than -20 degrees now and that is too cold for flooding as the water freezes before it levels out. None of these kids have skates, so they are just sliding around on their boots.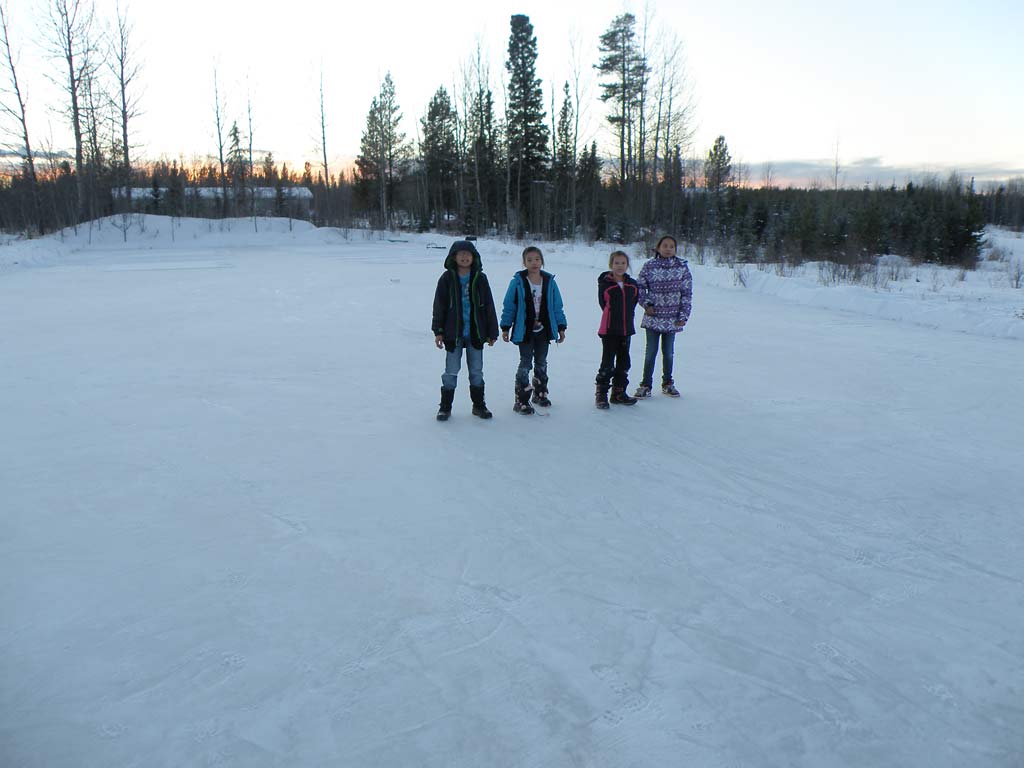 As you can see here, our little thief really likes donuts.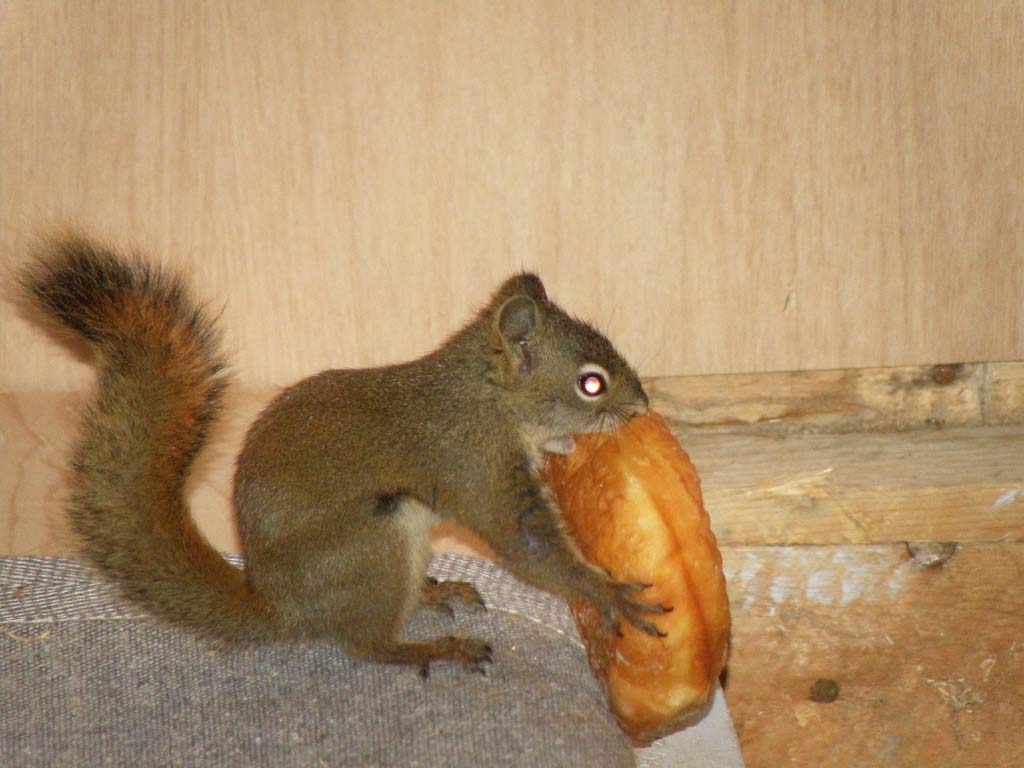 This is our Siberian fox hat we got in Siberia, on Jalyn. It's too hot to wear normally.
---
Karen's News for December 2012
2012 was a special year for me! It had its challenges, but God has been so faithful.
The new year found me getting to know the friends of our daughters, Melany, and Jenny and our son David. Then I got to fly to the States and see our son, Reuben and his family. From there I rode the Am Trak for the first time to see our other daughter, Melody, my mom and my sister, April. It was really good to see them again.
The rest of the winter I spent time with my grand kids, made plans for the VBSes and prayed with the Prairie students as they came out every week to minister to the Sunday school kids. I do feel bad I missed the team from Rocky Mt. College that came to minister on the Reserve in February. I heard they did an excellent job!
In the Spring I was offered a job to work on the Ochiese Reserve with adult literacy. I enjoyed that very much. We studied a very special book called Two Old Woman. It took place in the north and reminded me a lot of the Gwitchin people we work with at Old Crow. It challenged me to be strong.
Then we had Alpha. It was a unique time where we saw God do a deep work in one of the ladies. Her faith in God for healing has been so evident as she prays over people now. Also at that time we were invited to a home to pray for a spirit to leave that had been really troubling the home. I took a young lady from Baffin Island with me who had dealt with these things before and we saw the faith of a little girl so evident as we asked God to free her home from evil.
Just after Alpha the violin students went to a Fiddling workshop, where they had a great time. Then our 3 VBSes. First on Big Horn where we worked as a team with YWAM, and Canadian Sunday School Mission volunteers. This year we were invited to hold VBS in the new Big Horn school facility. It was such a blessing. The number of older teens that attended amazed the teams. Latter we heard that a Science camp was to be held at the same time and the students kept coming to VBS so it was postponed.
The Ochiese VBS was held in homes. To me it was thrilling to see those parents want to see their children and grandchilden know who Jesus is. Also again we joined forces with another mission group, a team of Koreans from Calgary who were holding a large VBS in the O'chiese school. Those particular Korean young people have been doing this for over 4 years and it was thrilling to come along side of them with our team of young people from the States. Latter we were told they really needed our help with some of the discipline and crowd control issues. God knows how to send help to his people.
Our Sunchild VBS was awesome! It consisted of a family of Koreans as cooks, and devotional leader. A team of young people from the States and some leaders, a number of local First Nation ladies, some of the Sunday School volunteers, Rodger and I.
You better believe, there was a lot of planning, praying and coordinating to keep things running smoothly. Then you add the sleep overs of the local children and regular VBS activites. Plus an opportunity to go into Rocky Mt. House and experience a real cultural PowWow at the original fort sight in the area. To be in the area where the first missionaries came down the Saskatchewan River and climbed the bank bringing the Cree Bible with them. This is where the great Peace Chief Meskipeton, first learned to read Cree, and where the the Stony Indian waited for months at the fort until he saw the man in his vision come up over the bank with a book under his arm. This was the Bible. Yes, Sunchild VBS was a special time.
Then there was a little space of time where the violin students went into Red Deer a city, two hours from the mission and took special training at a Strings and Bows work shop with some of the top violin teachers in Alberta. The end of the summer we had 7 get baptized. This was a special time for the church. These ones are growing a lot spiritually.
The Ladies Retreat this year was held by a group of godly ladies from the Crossroads church in Red Deer and the Kidz Town leader from the Nazarene church in Rocky Mt. House. Then began the Big Horn follow up. This again was very exciting because other than myself all the workers were First Nation people. We had Bible studies, and crafts. At this time we formed a partnership with a church in a town about 15 miles away from the Big Horn Reserve to keep some activities going for the teens during the winter when we couldn't get over there. The new school administration is open to us using the building during the winter. Also this fall we were able to connect the Bighorn school students with the Copa for kids program in Rocky. Rodger has been flying First Nation kids on this program for a number of years. I was so glad we could include Bighorn this year.
Then a surprise opportunity opened up for me. A grandfather came to me and asked if I would tutor his grandson on the same ACE program our kids and the grandson's mother had been on years ago. I sensed as I listened and then observed the 8 year old boy I had a Helen Keller situation on my hands, but as I prayed about it I knew it was what God wanted me to do. I also sensed that I should be training someone at the same time to understand the ACE system, which is individualism, understanding and mastery. An aunty was willing to work with me and to this day this young man is learning when others indicated he really couldn't read. He is so smart and his mind runs so fast a normal class room just doesn't fit him. As often as I have taught ACE, this time I am learning new and innovative ways of teaching the old stuff.
Another wonderful door that opened up to me this fall is what we call choir and piano. The Good Samaritan rest home has called a number of times for the children to come and sing. Although I can't can't carry a note on tune I make a good driver and that is ok with me! It has also been my privilege to teach piano to a family and a young man outside of the scheduled lesson time. I have enjoyed this very much.Two of my students have completed their first book and have received certificates.
I love working with the ladies and our ladies meeting have still been a time of prayer! They know with out prayer they are helpless to stand against all that has been thrown against them. Some of the new baptized believers have really stepped up to the plate and are taking a stand against evil. Really pray for them.
This brings us to Christmas! I am so excited to be back here this Christmas! I enjoyed my time away, but this is my home and Christmas isn't the same when you are away! Unless you are with family or on a Special mission trip in some other part of the world! Last night some of the church kids started decorating the church. It was fun to see how they wanted their church to look nice! Just pray for Doris, our Sunday school superintendent, as she gets the Christmas program in order. She has been so faithful to this Sunday school. God bless her! ....from Karen.
This is Karen's school class. Her student is Tyree and Karen's teachers aid is Robin.
This is a group of students getting perfect attendance awards.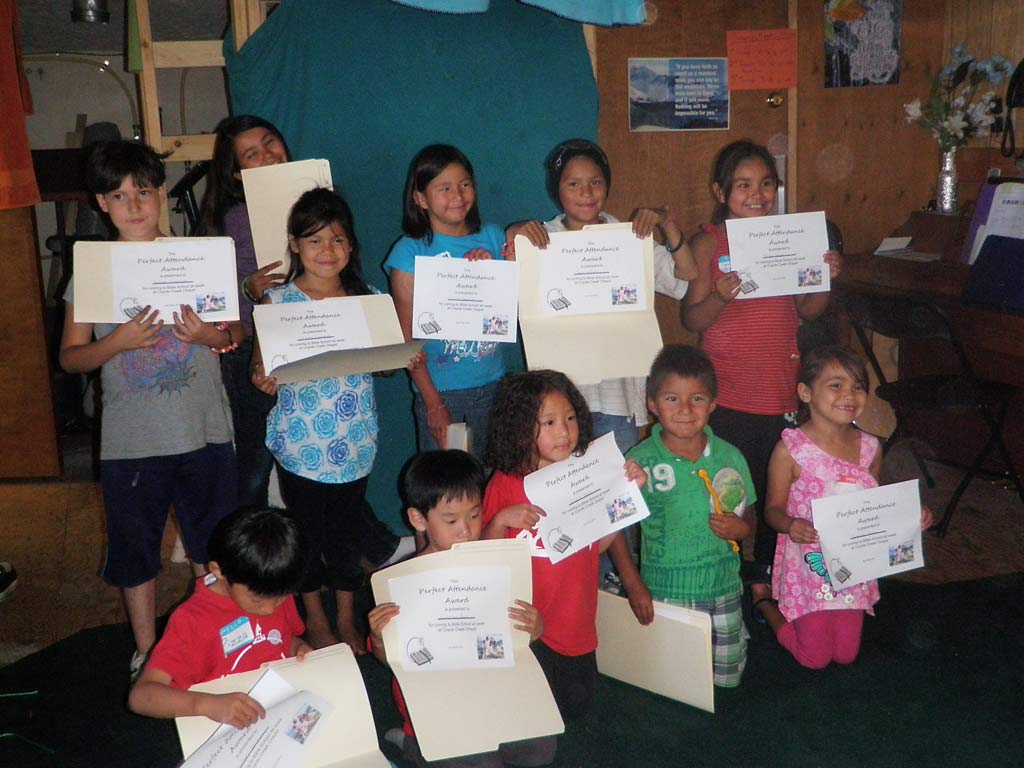 This is a picture from the Ladies Retreat that was held out in the mountains.
This is our youth choir recently when they went to sing at a rest home in Rocky.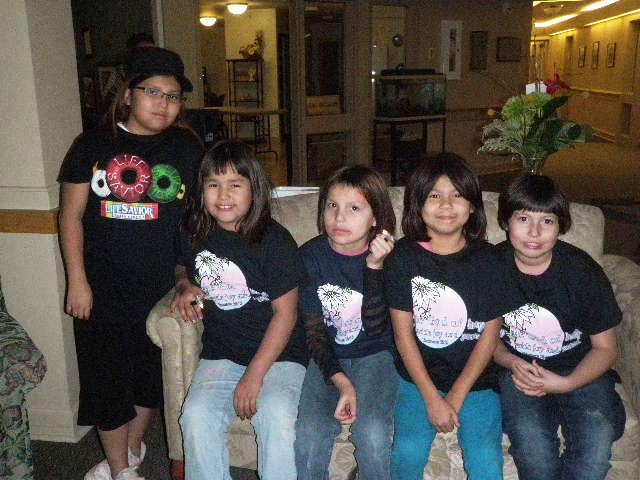 Innovative ways to teach the ABC's of A.C.E.
Home | Sunchild Mission | Outreach | News Updates | Devotions | Pictures of the week