---
Sunchild News - January 2022
Page 3
https//arcticoutreach.org --- e-mail rinker@arcticoutreach.org --- phone 403-989-3715
---
Karen writes: "We had a special Christmas Eve service with 20 in attendance."
This was our Nativity play.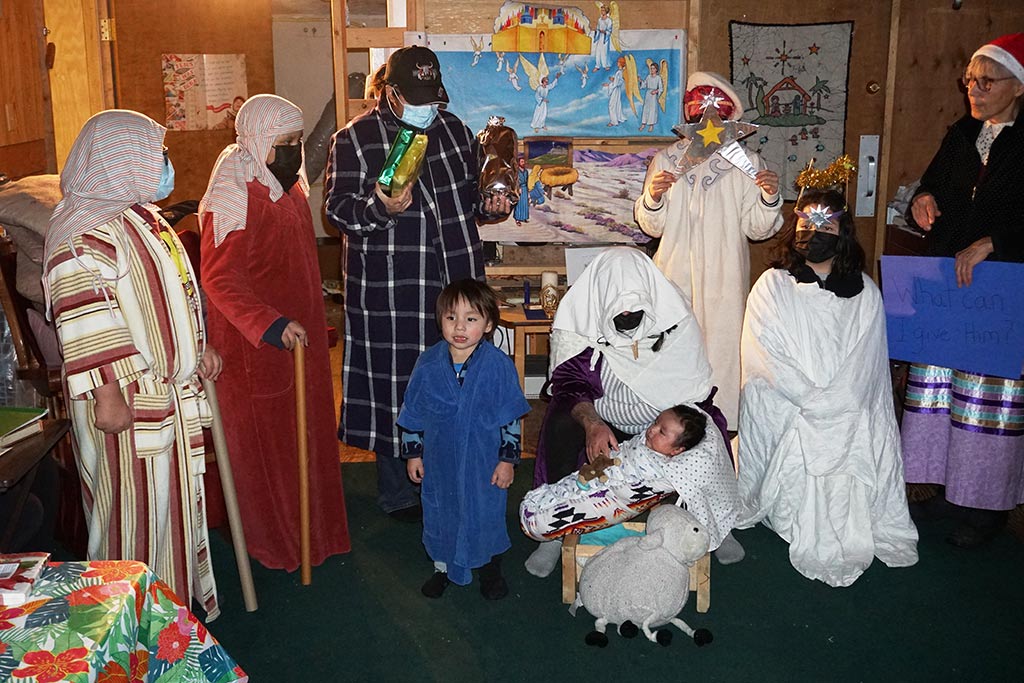 We had a group to go Christmas caroling, and had a party and games afterwards.
games.
The Koreans brought 5 van loads from Calgary to do some visitation on the Reserves here, and brought us some supplies and gifts to hand out. As you can see, in Calgary they are living under Covid restrictions they we don't have here. It's only when we go to town, or have visitors like this, that we realize what much of society is struggling with, that we aren't so much affected.
The gifts they brought were a real blessing, which we pass out to our church families.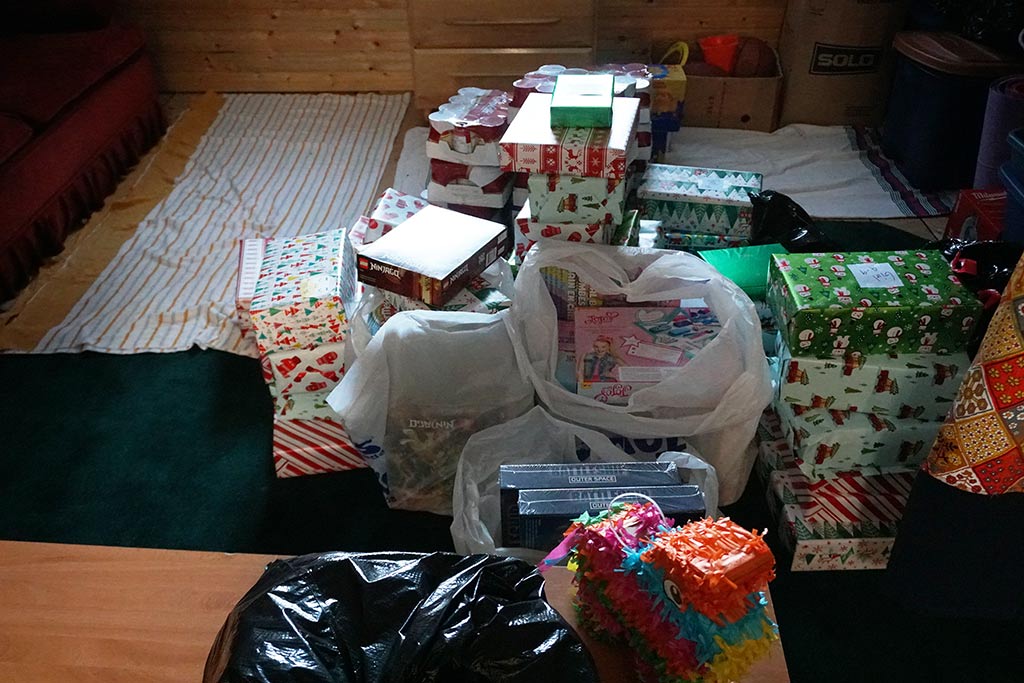 The ladies here are playing a popular game in our Christams party.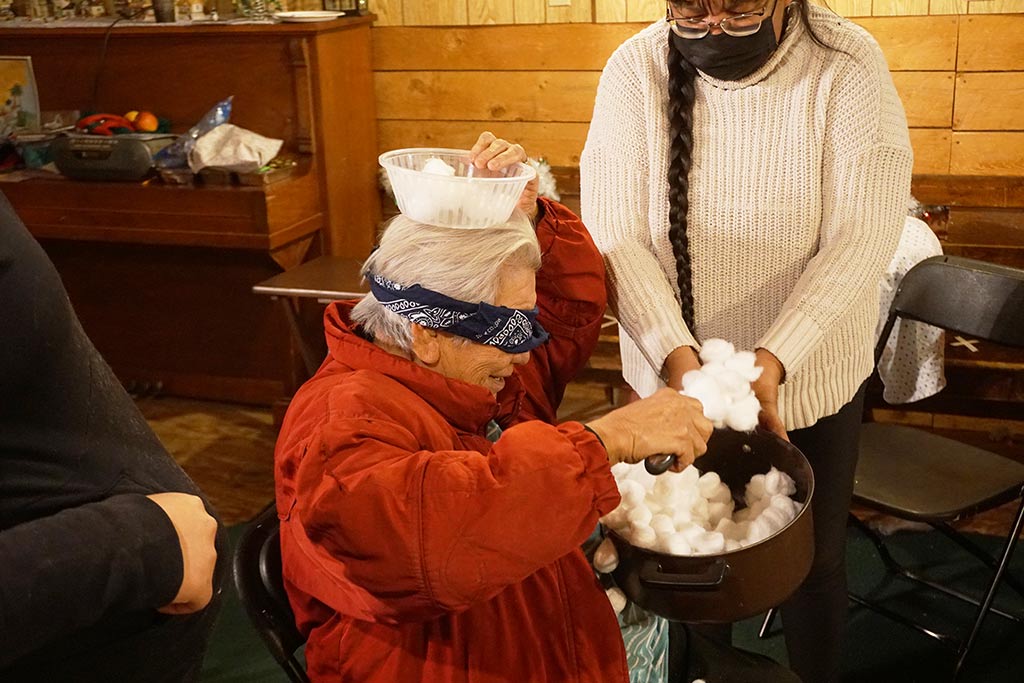 Karen writes: "At New Year's we enjoyed company following the cultural custom of Sunchild, of setting a table full of food and people going house to house enjoying each other's food & celebrating New Year's."
We have many visitors and get to see folks we may not have seen for a while.
New Year's visitors.
New Years visitors.
Karen writes: "Sunday School is also growing. We are getting some local help and help from town, which is a real blessing."
Karen often had to do the entire Sunday School by herself, as in this picture and the next. However....(see below)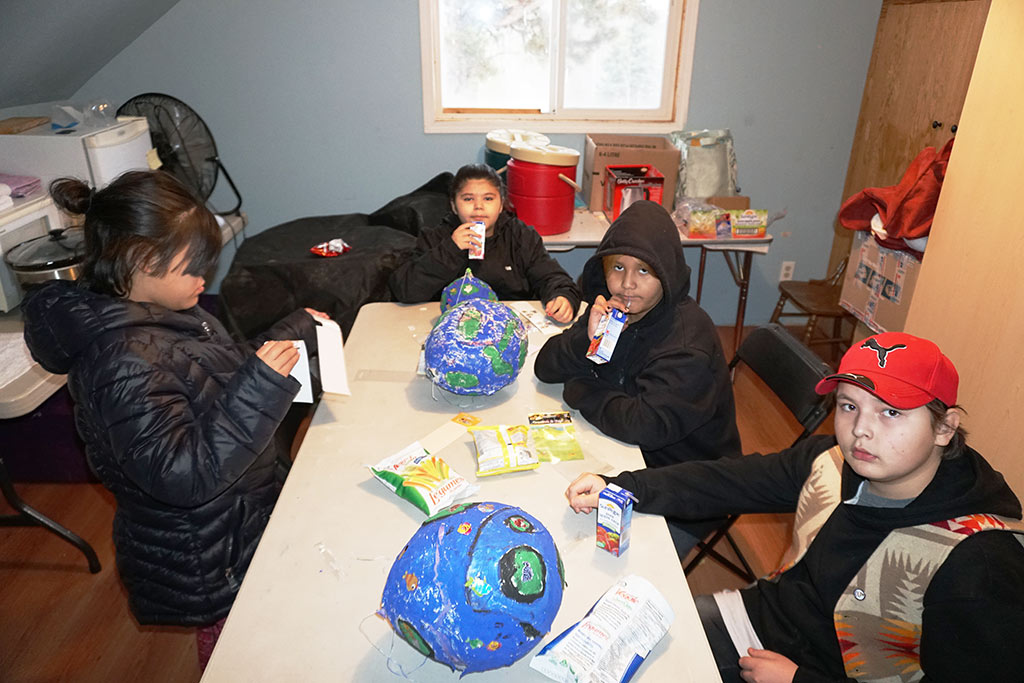 However...last Sunday we had several helpers, in a couple different classes.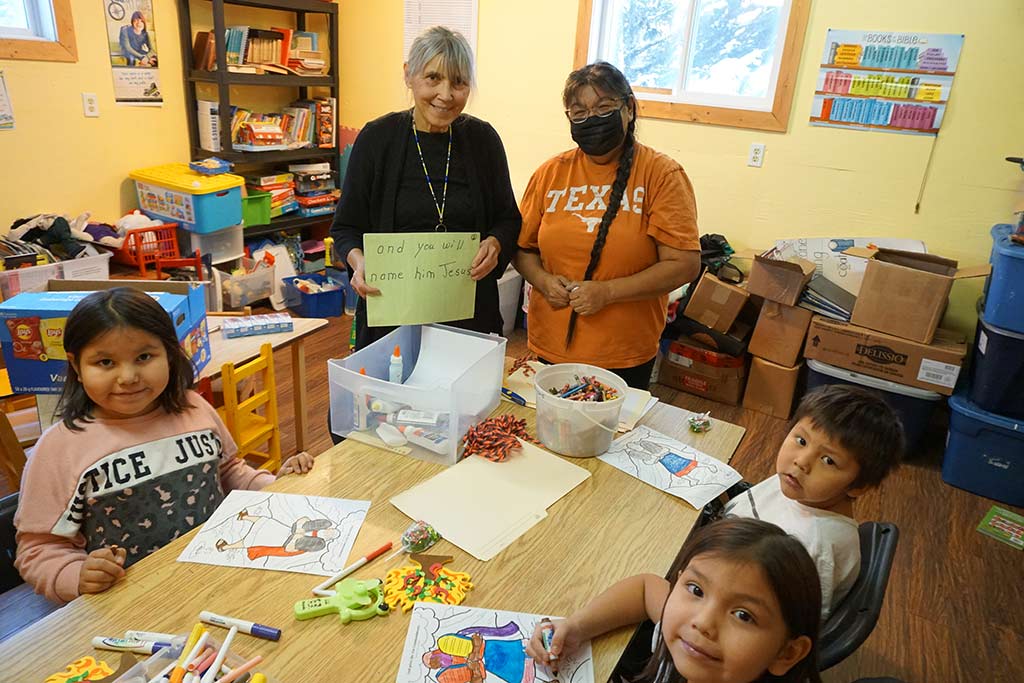 We had a special service with Mr. & Mrs. Harry Rusk. Harry is from the Slavey First Nations Indian Band, from Ft. Nelson, British Columbia, up north. He has an amazing testimony of being born in the wilderness in the 1930's. He met Hank Snow while he was a patient in the TB hospital in Edmonton, and was inspired to become a singer. Eventually he became the first American Indian to appear in the Grand Ole Opry, and became a regular singer there for 22 years. Harry and his wife are still active traveling and singing doing evangelism. We were so blessed to have them. They only live a couple hours from here, so we went to visit them also since they were here.
Karen's letter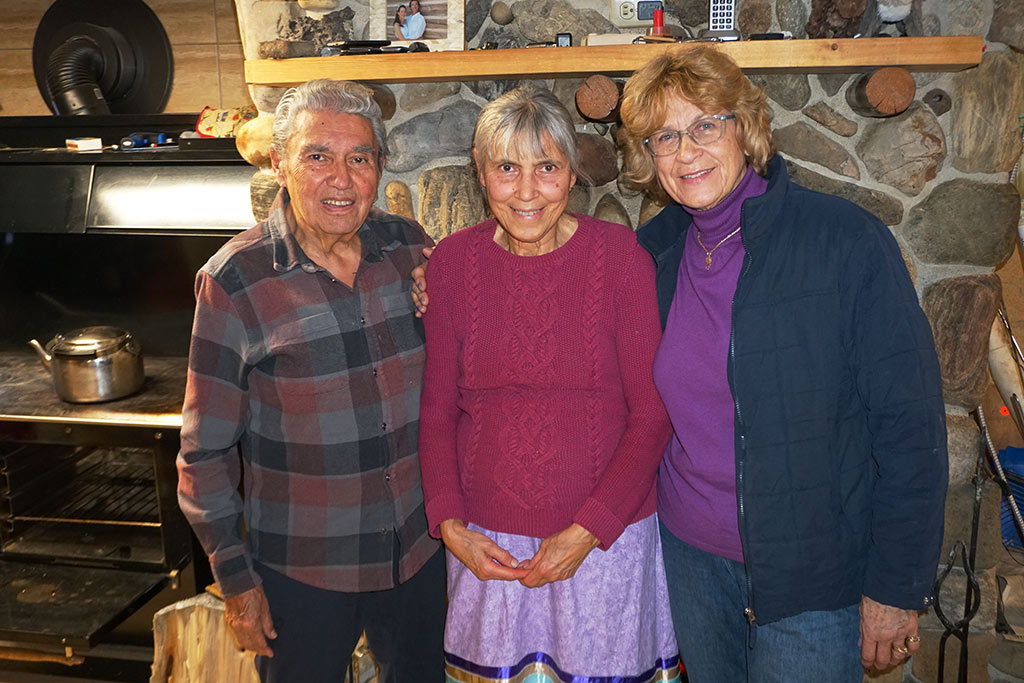 Here I'm working on preparing a hide for tanning. We learned from the people here years ago, their traditional way of doing this.
Still working last fall on a gate for our fence.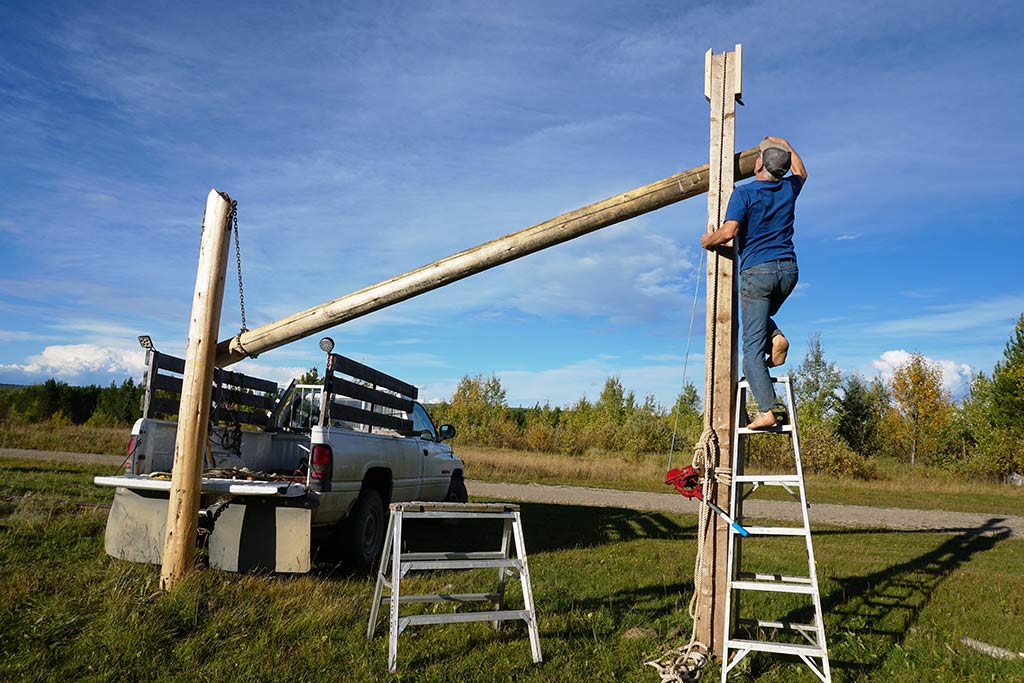 digging potatoes in our garden last September.
Just part of our harvest.
Fall scene out of our bedroom window. We don't have any hardwoods. The yellow trees are Popular, much like Aspen.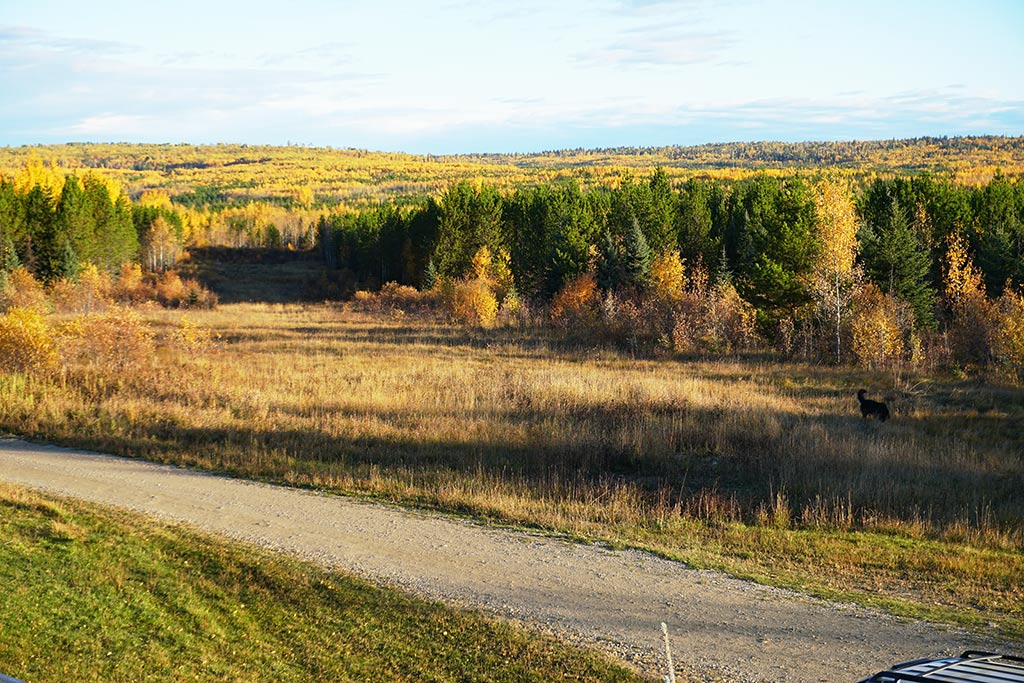 The snow came with a vengeance, several big storms one after the other. We had 20 inches in 12 hours.
When our snow comes, it all stays until April, and just keeps piling up. So we got a snowblower to help with living with it.
We can't leave out the special lady of the house.
A youth group in the fall.
Follow the link to access the next page of pictures.