Home | Sunchild Mission | Outreach | News Updates | Devotions
---
Karen's Sunchild News June 2014
www.arcticoutreach.org --- e-mail rinker@arcticoutreach.org --- phone 403-989-3715
---
Karen's Spring newsletter
While Rodger was away in the North Katie Peacock, a Wycliff missionary, and I held the fort. It was a fun time letting Katie meet all the cool ladies here. I took her all over the place and had as many ladies as could come by the house and meet her. We prayed about a lot of personal needs local people had and we are still seeing answers to prayer from that time.
The music program is still going full swing. In March, April and May the students were singing, dancing or playing in different places. The summer is a time to regroup and make plans and proposals for the next year. We were thrilled as we looked over 2014 and realized that whether violin, piano, choir or guitar, events were done almost every month of this past year. We are so happy how God has been using all these students to bless others. In May some of the students' relatives were in the hospital and needed cheering up, so we took children from the different music departments and went to Rocky and cheered up some patients. Then because of a financial gift we were able to treat the children to a "Happy meal" and fun at the park.
When Rodger was on his way home from the north he told me he had a surprise for me. In the recent past his surprises have involved children so my brain thought was it the child of one of our friends. Sure enough it was but it was an adult child. I was so happy when Christine Nukon stepped out of the truck. We hit it off really well, and I so enjoyed her company. She has taught me many things. Alpha, a special ministry event, was held and Christine and another Gwitchin lady, Angela, from Calgary were able to take it in. They became great blessings as the Alpha team this year had no child care or serving help. These two beautiful women stepped in and met that need as they worked with the food. The Alpha event had two great results. It helped disciple the believers and gave help in supporting a new program here at the church. It is called Celebrate Recovery.
We know if you do the same thing over and over and expect different results it is called insanity, so we have dropped our ladies meeting for now and are concentrating on a certain group of ladies that want to go forward in their recovery journey from hurts, hang ups and habits. As we have told you before there is a lot of pain out here because of drugs, alcohol, and suicide. We are encouraged with what we are seeing of the hunger of the ladies to accept the words I am sharing from the Word of God. I don't know how to teach this so I really need your prayers. I have hurts, and I have hang ups but I have never had the pain these ladies have suffered, because as a 16 year old girl I truly gave my heart to Jesus and I have been able to talk to Him about everything since then. My prayer is that as these ladies get help they can help their daughters and sons find Jesus and be able to talk to Him about everything. It blessed my heart to see one son actually drive his mom to the church one night. Please keep praying for these ladies. The enemy is not happy that they are trying to better themselves. This program does need money to operate so pray that God will lay it on some one's heart to help. The Celebrate Recovery Program from the Crossroad Church in Red Deer has offered to get a kit for 4 of the ladies. This is a real blessing.
Another yearly event took place again. It was getting the youth to the NYC, Native Youth Conference. The teens, and this year we even recruited help from the leader of Alpha cleaned two seven kilometer sections of highway to raise the funds to go. It was well worth the effort. There was a deeply spiritual Navajo Band who God greatly used, a speaker who shared Truth in a powerful way and a crazy rap team that I was so thankful they said their wives were interceding for them as they travel. SMILE! The teens want to go back next year!
There is so much more going on in the church and Sunday school at this time. We really need prayer for these areas as the battle keeps raging for these precious people. But it is encouraging to me to see new people coming and some dads still stepping up to the plate. There has been much prayer for the men over the years and they still need major prayer at this time. It seems as the women get help their husbands fall behind and as the men get help the women start to fall back. So pray that families will be established. I know the enemy hates families that love Jesus.
There is so much fruit that is coming to the surface after years and years of sowing and and watering. I can't wait for our friends from Norway who are coming in June and the new VBS teams coming in July to experience the joys we do from the seed sown.
THANK YOU SO MUCH EVERYONE WHO HAS SOWN IN TEARS FOR THIS MISSION! Karen
Teen Sunday School class in March.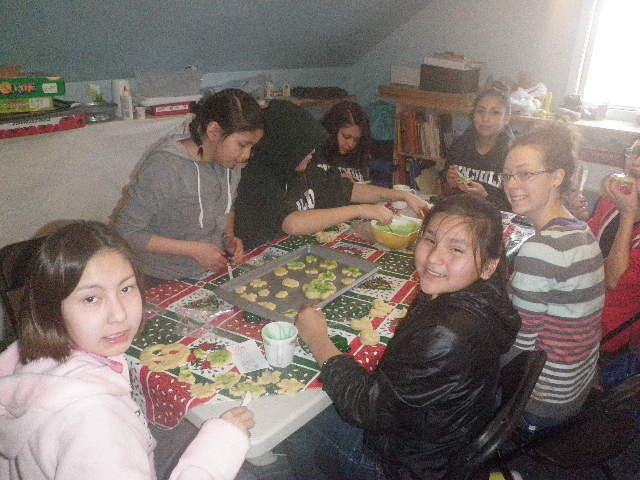 The snow was really deep when Rodger was in the North. It almost covered the cross in the graveyard behind our house.
Baking is a big thing at our house.
Teens doing bead work that they sell.
Moccasins made for myself and our daughter Jenny.
We are baby sitting David's dog till he can find a place in the city that he can keep a dog.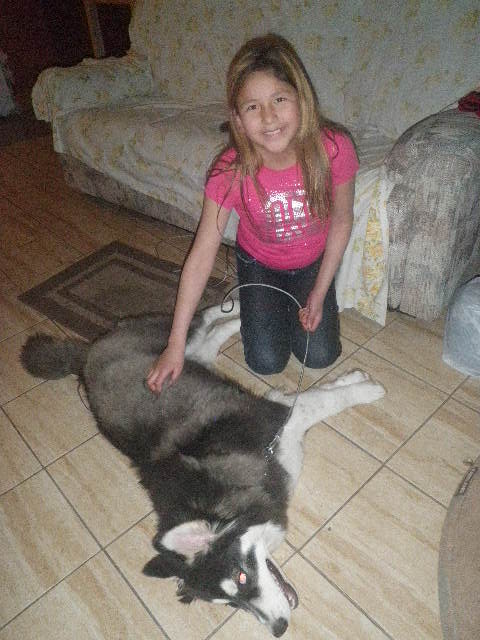 Our first Celebrate Recovery group.
Teen on their way to the Native Youth Conference.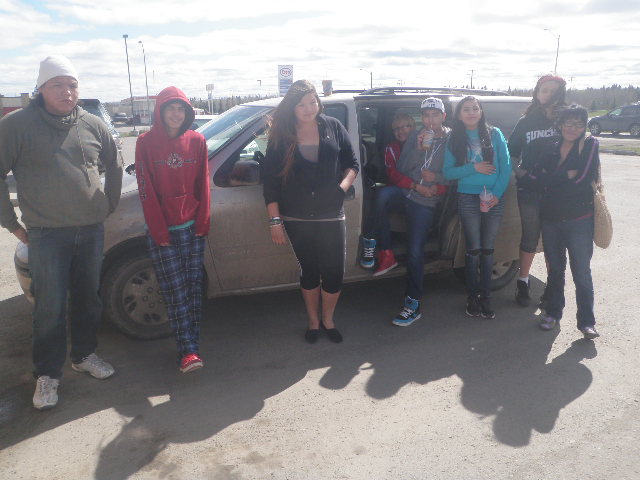 Gutiar, violin, piano and choir students cheering up people in the hospital.
Planting flowers around the church.